You can't visit Rio de Janeiro without going to a samba gig. With its African roots, samba music is an essential part of Rio de Janeiro's culture.  Experiencing the addictive rhythms of samba, even if you don't like dancing, always makes for a great evening out. Here are our top picks for live samba music in Rio de Janeiro.
Bip Bip
Since most of the tourists end up in Copacabana, do drop by at Bip Bip to check out the samba scene. A bit of cult bar, Bip Bip is all about music. Local musicians come here to play in a tiny space. Talking during the music is forbidden, and you better respect that, to avoid a scolding. Don't expect to be attended by a waiter, there is a fridge where you can get your beers. Thursdays, Fridays and Sundays are good for samba. On other nights they play other styles, like bossa nova and choro, as well.
Rua Almirante Gonçalves 50, loja D, Copacabana. Tel: +55 (21) 22679696
Bar Carioca da Gema
Located in a charming colonial-style mansion, Carioca da Gema is one of the pioneers in Lapa. Opening its doors in 2000 when the neighborhood still was a bit sketchy, it now attracts a loyal public of samba lovers and showcases often the best bands in town. If it gets crowded and hot, their pleasant courtyard will give you some reprieve. Food is served here as well. On Monday night, when most bars in Lapa close their doors, this is the place to be.
Avenida Mem de Sá 79, Lapa. Tel: +55 (21) 2221-0043
Rio Scenarium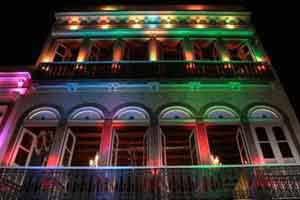 An institute in Lapa, Rio Scenarium these days is almost a compulsory night out for travelers. It is like entering a museum, this period building of three floors. Full of vintage stuff, including antique barber chairs, Rio Scenarium's interior is a lust for the eye.  One of the biggest nightclubs in Rio, it can attract as much as 2.000 people. Every night the club has different musicians, playing live on the ground floor.
Rua do Lavradio, 20, Lapa. Tel:  +55 (21) 2221 0043
Gafieira Elite
Founded in 1930 by a Portuguese, this old-fashioned dance hall is a must visit for a truly local experience. So-called Gafieiras originally were ballroom locations where people would meet up to dance with each other. Every other Sunday Gafieira Elite has traditional samba dancing, while on other days also other typical Brazilian music styles can be heard in the dance hall, located in downtown Rio.
Rua Frei Caneca, 4  Centro. Tel: + 55 (21) 2232-3217
Pedra do Sal
Originally a religious site, Pedra do Sal attracts big crowds on Monday and Friday nights when samba musicians gather to perform live samba. Located in the old port zone of Rio, the open air location is set next to a great rock ("pedra"), that leads up to the historical neighborhood Morro da Conceição map. Widely acknowledged as one of the better samba jam sessions in town, Pedra do Sal, is a must visit. On rainy days it will be canceled though.
Largo João da Baiana, Rua Argemiro Bulcão, Centro
When looking for more events, check our weekly events in Rio page with the last updates available.