Transport in Rio – All the Info You Need
When you are visiting Rio de Janeiro, one of the big questions – like in any city you visit – is what is the best way to get around the city? There are many different types of transport in Rio and we will explain them here for you. In general we advice you to limit your use of transportation in Rio to two types of transport: the metro and the taxi, or Uber.
Public Transport in Rio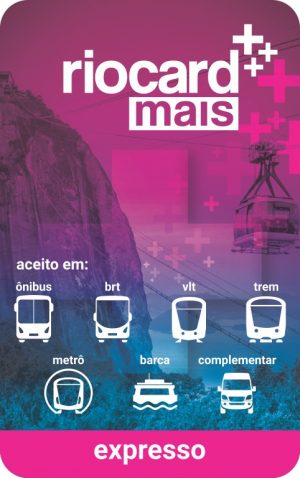 A sustainable way to get around Rio is by using the public transport system. You can buy one-way tickets for the different types of public transport, but we advise you to buy a Riocard Mais. This card costs only R$3 and you can charge it with the amount of money of you like. You can use the card to enter and pay all types of public transport. Charging and using the card will save you a lot of waiting time in line to buy tickets. You can buy the card at the airports and in the metro stations.
Metro
The metro is the pride of Rio de Janeiro's public transport system. It is modern, dependable and a safe way of transport. It doesn't go to all parts of Rio, but lots of popular tourist destinations in the South-Zone and the Center are close to a metro station. One metro ride cost R$ 4.65. The metro runs Monday till Saturday from 5AM till midnight. On Sundays and holidays from 7AM till 11PM.
BRT
BRT stands for Bus Rapid Transport and is a bus with exclusive lanes. This system as a bus extension of the metro system. Where the metro system stops you can hop on the BRT system. You can use this system for example to travel to and from the International Airport Galeão and to travel further into Barra de Tijuca and to the Olympic Park (where lots of events take place, like for example the Rock in Rio Festiva).
Bus
Taking the bus in Rio de Janeiro is not the best idea, because of safety reasons. They are not very well organized, but frequent. If you don't speak Portuguese, it will be a challenge to find the right buses and get out at the right stop. Some embassies actually advice to avoid taking the bus because of security reasons. Petty theft, and sometimes even assaults, can happen on the bus. Especially in parts of the city where tourists usually don't stay, and especially at night. To avoid any risk, we would advise not to take the bus.
If you do want to take the bus: the buses in Rio de Janeiro are frequent, they cost R$ 3.80. Going to faraway destinations like Barra de Tijuca you have more expensive buses. Find out which bus goes where on Vá de Ônibus, (best is to to stick to the main streets, then it works fine).
Tram/VLT
In the city center there is also a modern tramway called VLT, that was constructed for the Rio 2016 Olympic Games. It is a modern, safe and reliable mode of transport. It is not the fastest mode of transport, but perfect to move around the center, the harbor area and to and from the Rodoviaria (the main bus station for long-distance buses outside of the city). It also has a stop at Santos Dumont airport. It cost R$ 3.80 and runs between 6 in the morning and midnight.

Ferry
When you want to go to the city of Niteroi on the other side of the bay or visit the island of Paqueta in the middle of the pay, you have to take the ferry. They leave from Praça XV in the Center. map
Download Rio public transport map
Uber and Taxi
Is Uber safe in Rio? We get this question a lot, and the answer is yes. The use of Uber is safe in Rio de Janeiro. It is a great way to move around the city. There are a lot of Uber drivers in Rio and in general you will get an Uber within a few minutes. The city is also full of metered taxis. They are very affordable compared to cabs in Europe or North America, but in general you pay almost twice the amount compared to taking an Uber. When ordering your Uber, you need your phone of course. The safest way is to order your Uber inside or when out on the street, keep an eye on your surroundings. You can read more about Uber in Rio in our special blog about this topic.
Alternative transport in Rio – on foot or by bike
Walking around Rio
Walking is perfectly fine if you stick to where other people walk. When the streets are empty or if there are some dodgy characters around you will have to be cautious. The city center is fine as long as the shops are open, after that the shop securities go home and it turns into a more dangerous area. The same counts for Sundays, but then the area around Praça Maua and the port area is perfectly fine to walk around. During rush hour walking a few blocks is usually faster than taking an Uber or bus.
Rio by bike
A really nice way to get around in Rio is on a bicycle. The city is mainly flat and has over 400km of bike lanes. A good rental company is Rio by Bike, located in Copacabana. You can also do guided bike tours trough the city. Read our blog about that tour here.
Arriving in Rio and leaving the city
From and to Galeão International Airport (Tom Jobim)
By far the easiest way to get to the city from the Airport or back is by Uber. You can find the Uber stand outside at the second level of the Airport terminal. When it's not rush hour this is also the fastest way. Expect a journey of about 30-45 minutes to Rio's South zone with the neighborhoods of Copacabana and Ipanema. Cost will, normally, be around R$ 40-50.
The cheapest way to get to the city, but a bit more difficult, because of stop-overs, is to go with public transport. You have to take a BRT bus and then the metro. This will cost you less than R$ 9. This journey takes about 1.5 hours to Ipanema.
From and to Santos Dumont Airport
From and to Santos Dumont there are several options depending on where you stay. The easiest and fastest way is Uber or Taxi. When you are staying in the Center you can go by VLT. And when you don't have to much luggage you can also walk 10 minutes to Cinelandia metro station and from there take the metro to your destination.
From and to the Rodoviaria
From and to the Rodoviaria (Rio's central bus station for long distance busses) it is of course again possible to get an Uber or Taxi. With public transport it is easy to reach. There is a VLT station just outside the Rodoviaria. With the VLT you can go to the Cinelandia metro station and travel further with the metro. We advise you not to walk around to much in the neighborhood of the bus station, because it is not the safest neighborhood.
For all the above goes that the public transport system only runs until midnight. So in the night you have to go by Uber or Taxi.
Where to go?
Now you know how to get around Rio, the question is: where to to go? Read more about this in our guide for first time visitors, guide for returning visitors and our weekly event update.