Beaches in Rio de Janeiro – A Guide
The beaches in Rio de Janeiro are famous around the world. Say Copacabana and it sparks the imagination of most people. Coming to Rio spending a sunny day on the beach is definitely something special. There are quite a few beaches and there is a defined beach culture, I have put together everything right here. To start with I will tell you a few things that you need to know.
The Beach Culture
The beaches in Rio de Janeiro play an important part in the social life of many Cariocas, therefore it has a strongly defined beach culture with some unwritten rules. Of course you can ignore these completely but "When in Rome…". Here are some do's and don'ts:
Do wear beach fashion. For guys that is swimming trunks or surf shorts. For girls it´s a bikini, make sure they are whole and clean! Topless is strictly forbidden, you could actually get arrested. Don´t wear football shorts or a bathing suit.
Do bring a beach bag with your stuff, a small backpack is also ok. Don´t ever (regardless of what your guide book tells you) go to the beach with a plastic bag, especially not from a supermarket. Uncool.
Do, if you're a girl use a canga (sarong) to sit on. A chair is also ok. For guys it's a chair or just to sit in the sand. Don´t use a towel, it doesn't matter how cool you think it is; in Rio a towel is a big no-no.
Do buy your things to eat and drink on the beach.
Don´t bring food and drinks, especially not a 1 1/2 liter bottle of water! From another perspective you can also see that you actually support these vendors that are walking in that baking sun trying to make a living.
Beaches in Rio de Janeiro
The most famous beach in Rio de Janeiro is, obviously, Copacabana Beach. This beach is around four kilometers long, but that includes the part of the beach of Leme. The beach is just one long line without any break, but these two neighborhoods – Copacabana and Leme – are separated by a big avenue. In the end, you won't notice any big difference walking around between these two beaches, but know there is a difference.
The second most visited beach is the beach of Ipanema. And next to Ipanema, you have the beach of Leblon. It is a bit of the same construction as with Copacabana and Leme, though the beach has an interruption between Ipanema and Leblon. The neighborhoods are divided by a canal, that connects the big lake of Rio de Janeiro with the ocean. The boulevard is just one walk of around four kilometers, with one of the most beautiful views in the city, with the Dois Irmãos and Gavea mountain in the background.
– Barra Beach & Recreio
– Grumari, Prainha, Macumba, Joatinga & Praia Vermelha
Pay attention to…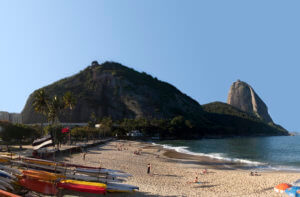 Be careful with what you bring to the beach, a bit of money is all you need really. For those must have camera shots you can just go down and take them and then return home to leave the camera. So many people loose things on the beach in more or less cunning scams.
Many of the beaches in Rio de Janeiro are artificially enlarged with vasts amounts of sand. This has created pretty strange and strong currents who are responsible for quite a few drowning accidents. Follow the signs and always make sure someone is keeping an eye on you from the shore. Do not go for that 4 o´clock in the morning swim, that could be your last!