Rio de Janeiro Attractions – All the Sights
There is no shortage of Rio de Janeiro attractions. The city is full of breath taking views and cool places. The Christ Statue (one of The New Seven Wonders of the World-list) and the Sugarloaf are probably the most famous. But there are many more things to see and do in Rio.
The Most Famous Rio de Janeiro Attractions Offer Stunning Views of the City
Rio de Janeiro is surrounded by hills, from the top of two of them it is easy to enjoy the beauty of the city. Click Corcovado and the Christ Statue to get some info about that. There is also a page about The Sugarloaf. Even though the entry fees are pretty high for both of these attractions they are well worth it. If you have a bit of money you can spend it on a tour in a Helicopter Around Rio.
The Beaches
Say Rio de janeiro and people around the world conjure images of a crowded beach, and indeed it is a big part of the culture here. On sunny weekends the beaches in Ipanema and Copacabana are full of people. It is a social meeting point where you go to flirt, relax, have fun and work out. Coconut water, beer, grilled cheese, beach sheets; all is provided by various colourful vendors. The beautiful beaches embedded between green hills are images most visitors will carry with them for life, they are Rio de Janeiro attractions you shouldn't miss. Read more detailed descriptions about the beaches by going to The Beaches in Rio de Janeiro section.
Samba School Rehearsal Parties
The somewhat misleading name gives you the idea that you will be attending classes to learn Samba, that is not the case. It is more like organized Samba parties where you can experieence an unique mixture of culture. Although many tourist go there they are not touristy since they are also very popular with the Cariocas. Go to Samba Schools in Rio to find out more about them.
Cidade do Samba
One of the newer Rio de Janeiro attractions. This is where a lot of the spectacular cars that are seen in the Carnival parade are made. You can come and visit Tue-Sat 10h/17h. The address is R. Rivadávia Correa 60, Gamboa map, I recommend getting a Taxi there from the city center since it's located a bit off, that wouldn´t cost you too much. Calling them at 2213-2503 or 2213-2546 would give you updated info on the events that are going on, it always changes. There is also a site Cidade do Samba.
Favela Tours
Almost everyone coming to Rio has heard about these before coming to Rio. And no, it's not like a safari into misery and the lifes of poor people, the fact is I have never heard anyone coming back with a negative reaction. These tours generates a lot of money for these communities so they do have an positive influence. Go to Favela Tour in Rio to learn more.
Maracanã and Football Games
Brazil being the most prominent nation in the world's biggest sport grants a huge interest for the game. A visit to Maracanã is a must for many soccer fans who come to Rio de Janeiro. I have put together some info about this on the page Maracanã and Football Games in Rio.
Centro, Lapa and Santa Teresa
These are neighbourhoods of special interest in the city. I have more detailed information about these, clicking the links below will take you there. In the neighbourhood Centro in Rio you have a lot of history. Walking around there will take you through the oldest parts of Rio. The city center is also good for shopping (go to Shopping in Centro to get more details on that). Lapa is where you have many good options for nightlife. Live music, bars and street party make it in my view the best place to have a good time at night. Here you can have some genuine fun Rio-style, Samba and crowded streets. Really good! Santa Teresa is a bohemian neighbourhood located on a hill. Artists and writers dominate this beautiful area with it's charming old houses and winding streets. Old fashioned and with lots of soul it is also home to some of the most charming bars and restaurants in Rio de Janeiro.
Lagoa, Jardim Botânico and Parque Lage
The lake Rodrigo de Freitas, only referred to as Lagoa English: lake), is one of the more popular recreational areas in Rio. The 7 1/2 kilometers around the lake is perfect for running or bicycling. There is also tennis and rowing available. At night you have live music in the many quiosques where they also ser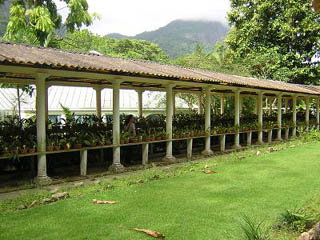 ve a good variety of food. Starting in December there is a huge Christmas tree decorated with a light show floating in the middle of the lake, fireworks on weekends and crowds in the early evening make it really cool.
Close to the lake is Jardim Botânico (English: Botanical Gardens), one of the Rio de Janeiro attractions that is perfect for a rainy day. There is also a nice cafeteria here. The address is R. Jardim Botânico 920, Jardim Botânico map, tel 3874-1808/3874-1214. It is open everyday 8h/17h and entrance is 6 R$. You can get there either by bus 125 that passes through all of Zona Sul including Copacabana, Ipanema and Leblon or bus 409 that passes Botafogo but then cuts across straight to the lake. You can also easily walk from Ipanema and Leblon by using a map, it's not far.
Parque Lage is located not far from Jardim Botânico on R. Jardim Botânico 414 map. It is free to the public and in a beautiful old building, that actually resembles an old Roman villa, you have an art school and a really nice little cafe that is open during the day. Well worth a visit.
The Tijuca Forest
Rio de Janeiro is embedded in a big Rainforest, it is called Floresta da Tijuca and has the status of National Park. Realizing the growing citys devastating effects on flora and fauna the king Dom Pedro II 1861 ordered the replanting of the forest. This beautiful area offer a few of the better views in Rio and hiking is highly recommendable. For the Cariocas themselves it's always on the toplist of the Rio de Janeiro attractions. Going in on your own is not recommendable since the sheer size makes it really difficult, getting lost can be tiresome and even dangerous. Robberies occur, the use of a guide or going with a native is therefor to recommend.