There are hundreds of restaurants in Rio de Janeiro. And when looking for the nicest places, most will look at the popular neighborhoods of Copacabana, Ipanema or Leblon. But there is a hidden gem located at an unexpected location. No, it's not fancy. But yes, it is a real Carioca experience and you will taste some of the best dishes of Brazilian cuisine. Put it on your to-do list: Bar do David in the favela of Chapéu Mangueira.
David started in 2010, but his restaurant became one of the top choices for locals and tourists when last year he won the prize of best dish for bars in the whole of Brazil. "I remember I participated for the first time in 2011 and I felt inferior to the other participants. Now, to be the first bar out of a favela to win this prize, is something that makes me really proud." This year the 45-year old David participated again and again was the best of Rio de Janeiro. Nationally he couldn't win for the second time in a row but still he finished as the number two.
After he quitted working in a fish shop, one day he came home with the idea to open a little bar. His father was full of confidence, saying that one day they would have the best bar of the favela. David spreads his arms: "And now we are the best bar in Brazil!"
Since this year Bar do David added an extra floor on top of the old restaurant. There is place for about more than 50 people now and there are some great dishes on the menu. Through the years he became famous for his feijoada of seafood. Feijoada normally is a bean-based stew featuring cuts of pork, and sausage. Only David changed the meat for seafood.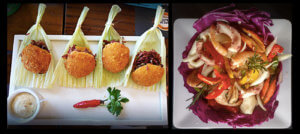 "It's a family recipe", he whispers mysteriously. "And it's a secret. It was made by one of my sisters, who passed away already." For the traditional Brazilian experience you should order a feijoada tropeira. This feijoda is with meat and it's one of the best you can get. And of course, you should try the two dishes David prepared for the competitions for this year, a little fried ball of cornflower with dried meat, and last year, a delicious salad with seafood.
When his guests start to leave, he smiles and gives a thumbs up. "See you next time, my friend. I'll have some great food ready for you." There is no way to resist David. You will have to come back.
To get to Bar do David you'll need to get to the entrance of the favelas Babilônia and Chapéu Mangueira, located in the leafy Rua General Ribeiro da Costa map in the neighborhood Leme. You can go up with one of the motorcycle taxis at the entrance or with o normal yellow taxi you can take anywhere in the city.
Even though David's bar is located at the fringe of the favela (Chapéu Mangueira), we recommend you, as a precaution, to check with David if the situation is quiet in the community before going there. Tel: + 55 21 964831046.