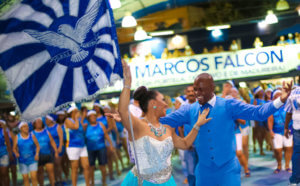 It's a great warm-up for the biggest party on earth next month, Carnival in Rio de Janeiro: visit a samba school in Rio. This way travelers in Rio can already get a taste of carnival by checking out the preparations of the big samba schools that will participate in the competition. You can watch them just weeks before the real parade. An awesome experience.
All the major samba schools have set days for experiencing their rehearsals for the big parade during carnival in Rio de Janeiro, which already had begun last year. Most of the rehearsals take place in the weekend, but some of them are on weekdays. You get to see the best samba drummers and dancers. It's the perfect way to experience the energy and emotion of carnival in Rio de Janeiro, without making it to the official parade.
Visit a Samba School in Rio: Mangueira or Salgueiro
The samba schools, community clubs originated from the poorer parts of the city, are from different neighborhoods. Some of them are located on the outskirts of Rio, others in the Center. Depending on the distance of the rehearsal location you can visit them yourself by taxi, or go on an organized tour. While it's a 20-minute taxi ride to famous samba school Mangueira, to get to rival Grande Rio in suburb Duque de Caxias it will take you easily 45 minutes up to an hour. Some locations are in favelas and you might feel safer going there with a tour. If you plan to visit one of the rehearsals ask a local at your hotel, hostel or host of your apartment to help you out.
To visit a samba school in Rio by yourself, it is best to go to the two most popular ones: Mangueira and Salgueiro. São Clemente is also easy to visit by yourself, since it is located in the city center. Just a piece of advice: don't start wandering around in the neighborhoods. There is nothing there, just enter the building and order a taxi when you want to leave.

Paraíso do Tuiuti
Mondays starting at 21hrs
São Clemente
Tuesdays starting at 20hrs
Beija-Flor
Thursdays starting at 22hrs on
Entrance: 1kg of food until 23:30, after that R$20
Portela
Fridays starting at 22hrs
Salgueiro
Saturdays starting at  22hrs
Mocidade Independente de Padre Miguel
Saturdays starting at 23hrs
União da Ilha
Saturdays starting at 23hrs
Unidos da Tijuca
Saturdays starting at 22h
Vila Isabel
Saturdays starting at 21hrs 
Império Serrano
Sundays starting at 19hrs
Imperatriz Leopoldinense
Sundays starting at 20hrs
Grande Rio
Saturdays from midnight on.
Mangueira
Saturdays starting at 22hrs