Many first time visitors wonder about safety in Rio de Janeiro. 'Is Rio de Janeiro safe' is one of the most popular searches in Google when it comes to Rio de Janeiro. They basically expect, after leaving their hotel, to be robbed at the first street corner they'll pass by. The city is not only famous for its beauty, chill vibe, its beautiful beaches, and lush green hills, but also for being – supposedly – unsafe. A quick Google search could lead you up to all sorts of stories about petty theft, gang wars and shootings. It's easy to get carried away by all this. However, comparisons to other big cities in Brazil, for example São Paulo or Salvador, or big cities in South America, like Buenos Aires or Santiago, show that this image of Rio de Janeiro is simply unjustified.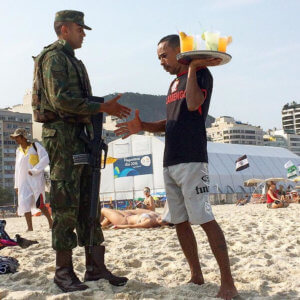 You will find out soon that the safety in Rio de Janeiro is not as bad as advertised. That you actually can walk around feeling relaxed and enjoy the new surroundings. In other words: the city is safer than you probably had assumed. Having said that, Rio is a metropolis of more than six million inhabitants and you need to be alert and cautious — as in any other big city. Safety can never be guaranteed. Use your common sense and be mindful of certain things before heading out there.  Here we'll describe some basic guidelines about safety in Rio de Janeiro. Follow these rules and probably everything will be fine.
Why safety in Rio de Janeiro is so much talked about?
The fact that lots of people think that Rio de Janeiro is unsafe, is probably food for a Harvard study. There are no official numbers that justify the fear lots of people have when visiting Rio de Janeiro. Rio is isn't part of the lists of most dangerous cities in the world, nor in Brazil. The overall crime rates dropped in the last few years (an article by the official governing body for public safety in Rio – in Portuguese, use Google Translate) and in the touristic areas safety is as high as it can be. The worst thing that can happen to you – in 99 percent of the situations – is someone ripping off your jewelry or taking your phone out of your hand.
Two of the big reasons that Rio has such a negative image are first, the existence of favelas (slums) in every corner of the city, and second, the amount of negative news the media reports about the city. Without getting to deep in psychology, it is well-known that negative news has a greater impact on humans than positive news. If you would ask all 1,5 million foreigners that every year visit Rio how they experienced this city, a big majority (say 95% or more) will say they loved it and would gladly come back. It's this 5% percent (or less) that creates the stories of fear we all hear. Again, also in this case there are no numbers available to support this opinion, but just some food for thought.
Don't stand out too much
The fact is that a certain amount of awareness is necessary when visiting Rio de Janeiro. So here we go with our guide for a safe and relax visit. The moment you leave your hotel, or apartment, you don't want to stand out too much. Try to blend in with the local crowd. Don't dress up like you're going on an African safari, with khaki pants and matching hat. Discard your sandals and white socks — you're not in France — and put on a pair of Havaianas. Walk around with confidence, like you know where you're going.   
Don't carry around fancy purses either. The use of a non-descriptive small backpack is preferable. Necklaces, watches, and other shiny ornaments, especially the gold ones; leave them in your hotel room. Why draw unsolicited attention? Thus, be aware of which valuables you want to bring: enough money to do the stuff you want to do. Debit cards are good and accepted almost everywhere. In case you lose it, it's useless without knowing the right pin code. Leave your passports and ID's in your hotel or apartment. Bringing a copy is sufficient.
Be conscious with your camera and phone
Can you bring a camera or a smartphone to take pictures? Sure, just don't walk around with a camera around your neck all the time. Leave it in your backpack and take it out only when you want to take pictures. Same goes for smartphones. While clicking away, be always conscious of your environment. Make sure no suspicious types are hanging around, or passing by on a bicycle — something that tends to happen quite a lot at the beaches —, ready to snatch your camera or phone at an unexpected moment. You want to check a map on your phone? Do it in a café or shop, don't stay on the streets watching your phone for minutes at every corner. Or let one of your travel companions keep an eye on your surroundings. 
Watch your belongings on the beach
When on your way to spend the day at the beach, you might consider not bringing all your gear. If you want to take pictures with an expensive camera, go to the beach to take pictures and bring it back to the hotel. For a day at the beach, a phone is more than enough to capture you drinking a coconut water or caipirinha at some of the most famous beaches in the world. In general stick to this rule: it is best to bring as little as possible. Just some money for snacks and drinks.
When on the beach always keep an eye on your belongings. Don't enter the water leaving your stuff unattended and don't place your bag behind your back where you can't see it. The robbers operate fast and are on the outlook for people not paying attention. They snatch your bag in a split-second when you are watching the waves or the beautiful people at the beach. A good trick is to rent a chair or umbrella and tie your bag to it.
Stick to these rules and you will have a relaxed day on the beach.
The metro is a good and safe way to travel
When it comes to transportation and safety in Rio de Janeiro, we recommend you to use the metro in Rio. The network connects all the main tourist areas, it is safe and well maintained. You can go up and down, between the historical center and the South Zone, with the famous beaches of Ipanema and Copacabana. Nowadays, it's also possible to take the metro to the Western part of Rio, to the neighborhoods of São Conrado and Barra de Tijuca.
In the city center there is also a modern tramway which is safe and reliable.
Taking the bus in Rio de Janeiro is not the best idea. They are not very well organized, they drive like crazy and if you don't speak Portuguese, it will be a challenge to find the right buses and get out at the right stop. Some embassies actually advice to avoid taking the bus because of security reasons. Petty theft, and sometimes even assaults, can happen on the bus. Especially in parts of the city where tourists usually don't stay, and especially at night. To avoid any risk, we would advise not to take the bus.
Uber in Rio de Janeiro is safe – and recommended
Is Uber safe in Rio? We get this question a lot, and the answer is yes. The use of Uber is safe in Rio de Janeiro. It is a great way to move around the city. There are a lot of Uber drivers in Rio and in general you will get an Uber within a few minutes. The city is also full of metered taxis. They are very affordable compared to cabs in Europe or North America, but in general you pay almost twice the amount compared to taking an Uber. When ordering your Uber, you need your phone of course. Then act as we advised before in this article: order your Uber inside or when out on the street, keep an eye on your surroundings.  
Safety in Rio: where to go and where not to go
Now you know how to move around, the next question is where to go and where not? Rio de Janeiro is big, yet in general, travelers only get to see a small part of the city. Favorite areas are the South Zone, including neighborhoods like Copacabana, Botafogo, Lagoa and Ipanema, and the city center and its surroundings, with quarters like Lapa and Santa Teresa. You'll find two captivating sites outside of the popular tourist localities. The market Feira de Sao Cristovão, with specialties from Brazil's Northeast, and the Maracanã football stadium, the location of the World Cup final in 2014. The last one is easy to reach by metro, but don't go walking around the neighborhood, while the best way to go to Feira de São Cristovão is by taxi or Uber. 
We don't advise going to the North Zone by yourself. You might find some interesting corners there, but in general, it is an area with impoverished lower-middle-class neighborhoods and not very safe.
Is it safe to visit a favela in Rio?
A special subject, when talking about where to go, are the favelas. Is it safe to visit a favela in Rio? This question is difficult to answer since Rio is home to over 1.000 favelas with a total population of around 1.5 million people. Every favela is unique and has its own safety situation. Let us focus on the hillside communities close to the main tourist areas. Because they are close to the main tourist areas, tourism has developed here as well. You will find hostels, AirBnB, restaurants, samba schools you can visit and multiple companies running tours here. These businesses couldn't survive if the favela was a constant war zone, like some media like to portray. Most of the time it is safe to visit and the chances that you will get robbed are lower than downhill at the beach.
However, there are drug gangs and sometimes there are periods with shootings between rivaling gangs or between the gangs and the police. You don't want to be on the streets in the favela when this happens. This is why we advise to always visit with a local professional guide or with someone who lives in the community. Or, when going to a restaurant, bar or hostel, ask them about the safety situation. These people live there, they know the place and know about the safety situation.
If you would like to visit a favela, you might be interested in taking our Tour in Mangueira, that we developed together with a local NGO.
Be extra careful at night
At night, you can walk around in the neighborhoods of Rio's South zone, like Leblon, Ipanema, Copacabana and Botafogo. However, avoid empty streets and spaces. There is also a big difference between the beaches Copacabana and Ipanema. When it gets dark around 19.00 hours, in Copacabana there will still be quiet a lot of people on the streets, especially between the postos (little white houses for the safe guards at the beach) 3 and 5 where you also can find the night market of Copacabana. In Ipanema it will be already really quiet, so better to avoid such a situation. A good rule is to take an Uber or taxi after 10pm. The metro doesn't operate after midnight.
After a night of clubbing, with high outside temperatures, don't go for a stroll to get some fresh air, especially when drunk, even if your hotel is a ten minutes walk away. Always take a taxi or an Uber.
Never fight your robber
Last but not least: if you get robbed at one point, be as cooperative as you can and just hand your stuff over and accept your loss. Don't think you can overpower your robber; he might be carrying a weapon and won't hesitate to use it (with possible fatal consequences). Or he has some accomplices waiting around the corner to give a violent helping hand if needed. Again: Never. Fight or Resist. Your. Robber.
When it comes to safety in Rio de Janeiro, stick to these guidelines. This will lower your chances of getting into bad situations significantly. And in general: be smart and use your common sense.
Hopefully you have a better understanding of the safety situation in Rio now, which means you can focus on all the great things to see and do in the Marvelous City. Get started with our ultimate guide for first time visitors!