One of the great ways to become familiar with a place you're visiting, is reading a book about it. No, we're not talking about travel guides here, but about fiction. In this case: fiction set in Rio de Janeiro. Here are three books about Rio de Janeiro we recommend you to read before visiting the Marvelous City. The coronavirus is spreading (read here our latest updates about the situation in Rio), just like in the rest of the world. The government is taking measures and lots of foreigners are not allowed to get into the country anymore. Reading a book is a good way to use your time while in quarantine, and that way you will be prepared to visit Rio when all gets back to normal.
The silence of the rain
by Luiz Alfredo Garcia-Roza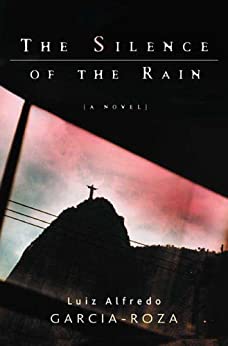 Luiz Alfredo Garcia-Roza is a psychiater living in Rio de Janeiro, who also happens to write best-selling books. His most famous character is probably Inspector Espinosa, a policeman working at a police station in the midst of hectic Copacabana. Espinosa is not your typical gun toting cop, but a rather bookish detective who prefers leafing through a good romance instead of checking out a violent crime scene.  
In the Silence of the rain, Espinosa is after the killer of Ricardo Carvalho, a corporate executive. Carvalho's bullet-ridden body is found in a parking garage. His wallet is gone and his briefcase is missing as well. 
In his quest for the truth Esponisa, a single man, finds himself attracted to the dead man's widow, to make things more complicated. On top of that, during the investigation two more dead bodies enter the story. 
Espinosa is constantly on the move, taking the reader by hand through the labyrinth of streets of Copacabana and other traditional neighborhoods of  Brazil's most famous city. It is a great way to get an idea of Rio as a city. Besides that, the detective's unorthodox approach to solve the murder case makes this book a compelling read that will keep you hooked till the end.  
The End
by Fernanda Torres
A completely different novel is The End by Fernanda Torres, a well known Brazilian actress and column writer. In this book, Torres dives into the male psyche, telling the story of five old friends who have their best days behind them. We hear their stories, especially their memories, tragic and funny, about divorces, regrets, marriages, disappointments, fights and resentments. 
You get to know Alvaro, who is always complaining of his ex-wife; Ribeiro, the typical beach bum; Ciro, the womanizer; Neto, the conventional husband and Silvio, always in for drugs and sex, even at an old age.
Set on the beaches of Rio, in the local bars, on the busy streets, the book gives you an insightful view as well of the lifestyle of a typical carioca, as the inhabitants of Rio are called.  At the same time you'll get a taste of the heydays of Bossa Nova music, Brazil's tropical jazz style, that came into prominence in the sixties.
Inferno
by Patricia Melo
A novel set in the poor neighborhoods of Rio de Janeiro is almost a must read, if you want to learn more about life in Rio's favelas. Inferno by Patricia Melo tells the tale of a street kid, Kingie, who rises up in the ranks of a drug trafficking outfit in one of Rio's favelas. In the story his poverty-ridden childhood is described in a compassionate way, and the reader will witness his first steps into the life of a drug gang member.     
He begins as a lookout, working in a favela on the hills of Rio de Janeiro. In this sketchy environment, violence, confrontations, adolescent pregnancy and long working days colour daily life, while Kingie makes his way up in the command chain of the gang. Besides that, the novel also gives you an interesting insight into the challenges and struggles of the inhabitants of Rio's poor neighborhoods. 
Have you read another great book about Rio de Janeiro? Please let us and other readers know in the comments below! So we can all read more books about the Marvelous City.
Or did you get in the mood to write "the script" of your own story in Rio? Then check out our guides for first time visitors and returning visitors. We hope to see you soon again in Rio!