It is impossible to speak of carnival without thinking of Brazil. Although carnival doesn't have Brazilian roots, since the beginning of the 20th century Brazilians have continuously reframed and developed this party to what we have now: a massive cultural manifestation. Carnival is huge in Rio, but in many other parts of Brazil as well. With enormous parties, each with its own particularities that makes them unforgettable and exciting. But Rio is certainly one of the best choices to get to know what carnival is all about. Because, the carnival party in Rio is the love of the life of a carioca.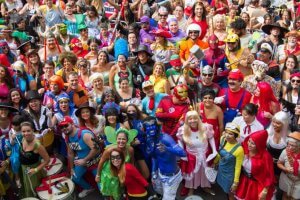 There is the sambódromo, of course, a place where major samba schools parade every year. It is what we like to believe is the greatest spectacle of the world. An impressive show, colorful and cheerful, raising its own bar each year. But carnival in Rio is diverse. If you happen to be in Rio around carnival time, you probably already know that beside the sambódromo, you also have the blocos or bloquinhos. Those spontaneous parades on the streets where a group of people plays music and everyone is invited to join – for free.
Revival of the blocos
The tradition of blocos was a bit out of fashion, it was seen as something of the old generations. But in the end of the 90s this feeling started to change and the blocos were reborn. Big ones like Simpatia Quase Amor in Ipanema and Carmelitas in Santa Teresa still carrie huge crowds. Cariocas reconnected with their roots. The carnival party in Rio returned to a time of undeniable fun. Each year new blocos show up and nowadays one single party can take more than a million people to the streets. So now the challenge is to find a bloco that combines huge fun and small crowds.
It is not easy to find (or organize) such blocos, but this can't stop cariocas from enjoying carnival. There are street parties starting throughout the day – and night. Some of them don't disclose when or where they start, the unauthorized parties, so you have to stay tuned to find it out. It is like a treasure hunt. Once you find the treasure you are rewarded with incredible fun (follow our Instagram for all updates and tips for carnival in Rio).
A form of cultural resistance
If you are here just for a few days of fun, you may not realize but street parades are a form of cultural resistance. On one hand the Rio administration tries to create order and boundaries to the party. On the other hand there are cariocas doing everything they can to express themselves with no restriction. Carnival is probably the most lively political act, with no rules other than having fun and respecting others.
The modern samba as we know nowadays is created in Rio and cariocas have samba running through their veins. Rio is carnival and carnival is for the people and from the people.
And if this is going to be your first time to visit Rio de Janeiro, have a look at our Ultimate Guide for the First Time Visitor for a great guide to plan your travels.