Bike in Rio de Janeiro – Some Useful Information
To use a bicycle in Rio de Janeiro is getting more and more common, it's mainly used to go to and from the beach or as exercise. The bicycle is not seen as a vehicle (as is the case in many other countries), it is more seen as a fast pedestrian. You get people biking on the sidewalks and against the direction of traffic all the time!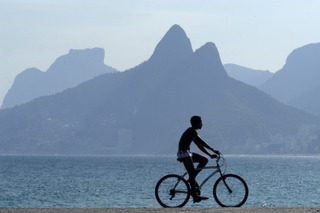 Bicycle Paths
So what about bicycle paths in Rio? Well there are quite few, you can bike in Rio de Janeiro on over 400 kilometers of bicycle paths. They go around the lake and along the beaches, you´ll find them in some other places too. A great thing is that on Sundays and holidays they close one side of the beach avenues in Leblon, Ipanema, Copacabana, Leme and Flamengo; People are roller blading, running, bicycling, skateboarding the whole day.
Here is a really good link to a page where you have bicycle routes, some of them are in the city but most of them are for the long haul: Bike Paths Rio.
Renting a Bicycle in Rio
There are quite a few places to rent bikes in Rio, you have people renting on the beach in Copacabana and also bicycle stores along the main streets. There are also a few hostels that rent. It is advisable to compare prices since they vary a lot. If you are in Rio for a while (more than two weeks) it may be a good idea to buy a bike, just ask the guy on the corner or a doorman (Portuguese: porteiro) and they most likely have some good info for you. Make sure to buy a lock as well and never leave it unattended without locking it since the thieves are cunning and fast.
The option to rent the orange bikes with Itaú written on them is very cheap but perhaps a little tricky for a foreigner on a brief, since you need a working cell phone and to make a credit card deposit. There are also several bike shops that offer this service, a lot more expensive, the quality and maintenance of bikes vary quite a lot. You can go to Bike Rental Rio that is located near posto 5 at the Avenida Nossa Senhora de Copacaba 1085. They have their office inside the building in the gallery.  Their bikes are quite good and their prices on par – or cheaper – with most others, 12 reais per hour or 50 reais for the day. You can leave your passport, or other id document, and get the bike which is quite convenient. They are open from 9.00 to 17.00.
Bike Tours in Rio de Janeiro
– Rio By Bike is the biggest tour operator in Rio de Janeiro. They offer variety of tours, leaving every day from the office in Copacabana. The company was founded in 2013 by two Dutch guys, former journalists that now run bike tours in Rio. There are various itineraries. Their site: Rio By Bike. Check out their Tripadvisor reviews here.