The restaurant La Fiorentina is one of the famous places in the city, and an example of the influence of the Italian cuisine in Rio de Janeiro. In front of its outdoor terrace sits a sculpted figure of a man in a suit at a table. It is a statue of Ary Barroso, a famous Brazilian music composer, and frequent visitor in the past of the Italian restaurant. La Fiorentina is an institute in Rio, a bohemian eatery, meeting point for artists, writers, and journalists. Their attraction to this restaurant doesn't come as a surprise: it only closes after the last client has left the building.
La Fiorentina is located in the small residential neighborhood of Leme, with its dead end promenade, palm trees and hills. Owned by Omar Perez, a well-known figure in Rio's hospitality scene — he also owns, for example, illustrious Bar Lagoa and French style bakeries Guerin- the restaurant opened its doors in 1957.
Before you'll order your food, you'll be impressed with the place itself. A very classic restaurant, where famous Brazilians, cultural, sports and political figures, left their signatures on the walls and columns of the main space. If you're plugged into Brazilian culture, have fun identifying the autographs.
In the seventies, society newspaper columnist Tetê Nahaz was a renowned regular. She was always to be found at one of the first tables in the restaurant, eager to find material for her gossip column. Notorious transvestites would frequent the restaurant as well, seen in the company of famous soap actors.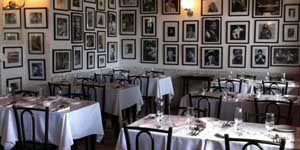 Striking are the beautiful black and white portraits that decorate the walls. It gives the place a truly old school feel. Pictures of Brazil's legendary football player Pelé, when he was in his prime, of former president Lula, are to be spotted on the wall. The menu card, in old fashioned newspaper format, informs you of the city's cultural agenda, as well of a variety of dishes and drinks.
Ordering food, the classic shrimp a La Fiorentina, is a great starter. Marinated in white wine, garlic, lemon, olive oil and peppers, the shrimps are delicious. Sauteed mussels is another recommended appetizer. Seafood is definitely La Fiorentina's speciality.
On hot days, any order combined with Brahma draft beer, served in what they call the tulip glass, is a true carioca experience. One of the main dishes is the spaghetti with Gamberi João Donta, named after the musician João Donta; thin spaghetti with a finger licking tomato and shrimp sauce. To finish the evening, the papaya cream with cassis dessert is a must. Fresh with a sweet taste of alcohol.
Address: Avenida Atlântica, 458 A, Leme map. Tel: 2543-8395