By Demi Lammers
For all of you who might want to come to Rio de Janeiro, don't wait any longer and come here because it is a truly amazing city. Rio is famous for its beautiful beaches, several touristic attractions and, of course, the carnival, where the whole city stops doing their daily tasks to drink caipirinhas and dance samba in the craziest outfits.  A lot of people might visit Rio for all of these things, but the city has a lot more to offer. One of those things is the cuisine! Because of the African, Amerindian and European roots, there is a lot of variety in the food. Some examples of Rio's specialities are:
Pastel (deep-fried pastry snack with different fillings – like cheese, meat, shrimp)
Feijoada (stew of beans with beef and pork)
Tapioca (a kind of crepe made of manioc, with different fillings like banana, ham and cheese, Nutella, etc.)
Cachorro-quente, podrão (hotdog)
All of the above specialities can be found on every corner here, as well as açaí bowls, churrascarias, "por quilo" restaurants and popcorn, lots of popcorn! For the people who might get bored with food and want to try something else, I've made a selection of the 5 best restaurants in Ipanema and Copacabana.
1. Teva – Av. Henrique Dumont 110, Ipanema. This is a vegan restaurant. It might sound crazy to go to a vegan restaurant in a city where everyone loves meat, but it is definitely worth visiting! The assortment consists of a wide variety of dishes and it is the best place to go for a brunch on a Sunday afternoon.  The ingredients used to make the food are fresh and you can definitely taste this. Some recommendations are the mushroom carpaccio, vegan spring rolls and the tofu. There are also really nice fresh juices and cocktails.
2. Astor – Av. Vieira Souto 110, Ipanema, A trendy, hip and happening bar based in front of Posto 8. The location says it all – this is a busy restaurant as well as bar, with a really good atmosphere. The times I visited it, Astor was always crowded. If you go to the interior of the restaurant, a cocktail bar can be found in the back. Try the burger with homemade fries, or take some finger food with a nice cocktail.
3. ViaSete – Rua Garcia D'Ávila 125, Ipanema. High quality food and very friendly staff. The decoration also gives the restaurant a good atmosphere. They have really good appetizers – take the beef carpaccio or fried squid. The nice thing about this restaurant is that you can make your dish to your own wishes – you choose which meat you want, than you choose two side dishes and a sauce. The food is very tasty and they also have nice cocktails and good desserts for the people that are still hungry or maybe just have a sweet tooth.
4. Gula Gula – R. Barão da Torre 446, Ipanema. This restaurant is very similar to Via7 – very good fine food and there is also the possibility for people who like to mix salads. Recommendation is to mix the Caesar salad with the beef salad.  They offer fresh ice teas – the strawberry one is really good – as well as delicious desserts.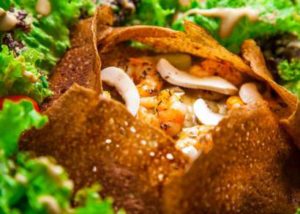 5. Le Ble Noir – R. Xavier da Silveira 19, Copacabana. This artile will finish really strong, because this restaurant is really AMAZING! The food is of such really high quality! One warning: make sure you make a reservation before going there, because it is very crowded and it can have long waiting lines if you don't reserve your table.  Le Ble Noir is a French crepe restaurant. The savoury crepes are all served with a salad and you can also make your own selection of cheese. The sweet dessert crepes are really good – it is highly recommended to take the crepe with vanilla ice cream, strawberries and milk chocolate. Simply heaven!
After diner
After you had great food in one of the 5 best restaurants in Ipanema and Copacabana you might want to go to a bar. If that is the case: check out our selection of best bars in Ipanema and best bars in Copacabana.
In our guide to eating out in Rio, you will find more general information and all the links to where to find the best places to eat throughout the city.