There are many museums in Rio de Janeiro and a reason to that is that until 1960 it was the capital of Brazil; this status was lost but the national museums stayed. I'm gonna give you addresses and specific info about some museums I have picked out as perhaps a bit more interesting for a foreigner, first I will discuss some general issues that might come in handy if you are planning to visit one or two of them. Persoanlly I think it is a natural choice if you happen to end up in Rio and it is raining.
Discounts & Open Hours for Museums of Rio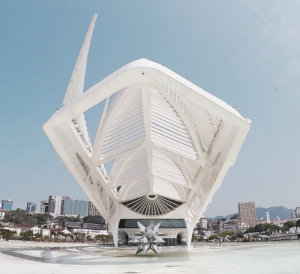 Quite a few museums have entrance on Sundays for free. Otherwise if you present a student card at the entrance you will many times get half the price, it never hurts to ask. Children (in general under 6 or 7 years of age) enter for free. They are almost all open the whole week except Mondays.
Exhibitions and Guided Tours
Some museums at times have really interesting exhibitions, that is the case with CCBB (Centro Cultural do Banco do Brasil) for example. Check the sites I provide on the museum pages I have linked to below. Guided tours are available in English for most museums, in some they are even obligatory, again check the sites to get updated info on times and how to book.
Real Gabinete Português de Leitura
Description: This absolutely stunning library built at the end of the 19th century is well worth a visit, many very rare books are kept here. More than a library open for resaerch they also have exhibitions.
Address: R. Luís de Camões 30, Centro map
Open: Mon-Fri 9h/18h
Phone: 2221-2960
Site: Real Gabinete Português de Leitura