When for the first time on the beach in Rio you can be surprised. Besides the sellers of traditional Biscoito Globo and Mate, you can see men walking by dressed up in traditional Arabic dress. Carrying big styrofoam boxes, they sell typical middle eastern snacks, like kibes or esfirras. A legacy of the big Sirian-Lebanese community in Brazil. You therefore definitely should try one of these restaurants with Arab food in Rio. Here are some of our favorites.
Amir Restaurant
Close to Lido Square in Copacabana, where vans to Christ the Redeemer leave from, you'll find Amir Restaurant. Amir is owned by Canadian expatriate Nicola Habre and is a must-visit for lovers of Arabic dishes. The restaurant has tables on the sidewalk and also offers a buffet option, with Moroccan rice, hummus, and other tasty food like stuffed grape leaves and lamb croquettes on display. Portions tend to be big.
Rua Ronald de Carvalho, 55 – Copacabana. Tel: +55 21 2275-5596
Baalbeck Delícias Árabes
Another Arabic food favorite in Copacabana is Baalbeck Delícias Árabes, known as Baalbeck. Tucked away in gallery Menescal, often you'll find people queuing here, ready to grab a freshly made kibe or esfirra (a pie-like dish originating from the Levant with ground meats, cumin and onions). Baalbeck is also a favorite haunt of the fictional inspector Espinosa, of the well-read Espinosa mysteries set in Rio de Janeiro. The place is famous in reality and in fiction.
Av. Nossa Sra. de Copacabana, 664 – Menescal Gallery, Copacabana. Tel: +55 21 2255-4574
O Árabe da Gávea
If you're in the mood to discover another part of Rio de Janeiro, a bit off the tourist trail, pay a culinary visit to O Árabe da Gávea, in the neighborhood of Gávea. They have a franchise in the shopping mall of Gávea, but you're best bet is to go to their outlet at Santos Dumont square, a very lively place at night, with lots of people on the street. Great place to drink a beer and eat one of their tasty ham sandwiches.
Praça Santos Dumont, 126-A – Gávea. Tel: +55 21 3114-0780.
Árabe Beduíno
Downtown Rio de Janeiro is where popular Árabe Beduíno is located. Frequented by professionals and office workers, this place is also a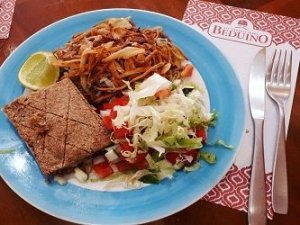 stop for breakfast. However, you also should come here for lunch or at night during happy hour when typical Middle Eastern snacks are served. The chicken couscous is a popular lunch dish among the regulars of Beduíno.
Av. President Wilson, 123 – Centro. Tel: +55 21 2524-5144.
Sírio e Libanês
For hungry people wandering about in Rio's historical center, cozy eatery Sírio e Libanês is a great option. The family-owned place has been around since 1967 and is run by Jawad Ghazi, together with his daughter. Here they offer freshly baked esfirras, fresh hummus, sizzling kaftas and other goodies. Ghazi, a Lebanese descendent, uses traditional recipes of his mother, brought to Brazil.
Rua Senhor dos Passos, 217 – Centro. Tel: +55 21 2224-5676.