Sugarloaf Mountain in Rio de Janeiro – Pão de Açucar
The Sugarloaf mountain in Rio de Janeiro, or Pão de Açúcar in Portuguese, is the second most famous peak in the city. The top of the hill is almost 400 meters above sea level. The trip to the top is done with a cable car that was inaugurated in 1912. It has brought millions of people to this beautiful spot and made world wide fame in the James Bond movie Moonraker when James Bond fought Jaws on top of one of the cabins.
Sugarloaf Mountain in Rio – Best place for Sunsets
The trip to the top is perfect for sunsets when you can see Rio  light up in the early evening. Something that is a lot harder from the Christ Statue since clouds many times gather there in the afternoon. A good tip is to bring a book and spend a few hours up there, they have small stalls where you can buy sandwiches as well as drinks. A sweater is a good idea since it can get pretty chilly.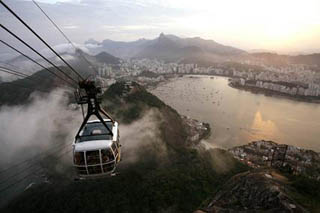 The Cable Car Ride
It is actually a two step journey. The first part takes you to the first hill called Morro da Urca and the second part all the way to the top. You can buy different types of tickets ranging from around R$100 to  R$ 200, depending the sort of trip you want. This can be just a simple cable car ride or trips with ecological information, historical information and VIP excess for those who don't like to waste their time standing in line. The first cable car ascending leaves at 8:10h and the last at 20h, going down the last one leaves at 20:40h (this info is from January 2020). If you want to confirm any of this go to the official site of the Sugarloaf mountain in Rio. 
Hiking
If you want you can hike up and down the first hill as long as it is not dark. It is a nice and easy hike take will take you about 30 minutes. For more experienced hikers and mountain climbers it is also possible to climb up the whole Sugarloaf.
Getting There
Getting to the Sugarloaf mountain is easy. From Copacabana and Ipanema catch bus number 511 (going back is with 512) or take an Uber. Or you can go by bike or walking of course.
Parties with a view
Regularly there are concerts held on the first hill featuring famous Brazilian artists. The concerts are at night and the cable car operates until later. The ride up and down is included in the ticket price.