There are lots of people traveling around South America who don't visit Brazil or Rio de Janeiro. Or people dreaming of going to Rio, but they don't go. Everybody who has been to Rio once, will tell them this is a mistake and that they have to go! Why would you hesitate to come? One reason might be that you are concerned about the safety situation. Another common heard reason for people not to come is that they think Rio is expensive. Yes, Rio can be expensive. However, it doesn't have to be! Let us give you our 8 insider tips on how to travel on a budget in Rio de Janeiro.
1. Sugarloaf Mountain (and other viewpoints on a budget in Rio)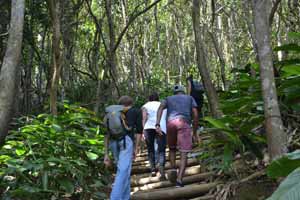 After the Christ Statue, the most popular place to visit is the Sugarloaf. This can be pretty expensive. The trip with two cable cars, first to the Morro da Urca – at 220 meters – and then to the top of the 400-meter high mountain costs 100 reais. But, it is possible to walk up the first hill. This will save you of your budget in Rio and you will have all the time to enjoy the great view of the city. From Praia Vermelha (the Red Beach) you can enter Pista Cláudio Coutinho on the left. After a ten minute walk, you will arrive at the start of the hike. The hike takes around 30-45 minutes and is relatively steep. After you took all your photos and marveled at the view, you take the trail down, ending up having a great view of Rio de Janeiro for free.
And for those who don't want to hike, there is a different option. The rooftops – mostly owned by hotels – are a great option to spent some time to take pictures and hang around. In the lesser known neighborhood of Botafogo, you can get a great look of the Sugarloaf from the top of Botafogo Praia Shopping or the Yoo2 Hotel. For a view of Ipanema, the best option is Fasano. In Copacabana, go to the Hilton – located at the beginning of Copacabana – or Pestana. That way you can stay on a budget in Rio de Janeiro.
2. Two of the best museums for free
Two of the best museums in Rio de Janeiro are the great Museu do Amanhã, designed by the famous Spanish architect Santiago Calatrava and the nearby Rio Museum of Art (MAR). Both are located on Praça Mauá in the old city center. They offer free admission on Tuesdays. Looking for some artistical highlights, this is the thing to do on a Tuesday.
3. Visit free sights
Some of the best attractions in Rio are free to visit. Most of them can be found in the city center. The Real Gabinete Português de Leitura is an awesome library, undiscovered by the big public. Very close you have the Arcos da Lapa, the Catedral Metropolitana and the famous colored Stairs of Selarón. Next to Praça Mauá, you can find the impressive street art of Eduardo Kobra, with 3000 square meters the biggest piece of street art in the world. Don't miss out on the free stuff!
4. Don't use the yellow taxis
You can save a lot of money in Rio by not taking the yellow taxis. This already starts when you arrive at the airport. Taxi drivers roll over you to offer you a ride, but there is also a dedicated bus going to all the major areas in Rio's South Zone. The cheapest way to get to the city, but a bit more difficult, because of stop-overs, is to go with public transport. You have to take a BRT bus and then the subway. This will cost you less than R$ 9. The Rio metro system will take you to lots of interesting points in the city. A one-way ticket with the metro cost R$ 4.65. On longer distances this will save you a lot of money. Unfortunately the metro does not run after midnight. Then the cheapest way is to take a Uber or use the Brazilian taxi service called 99. It works excellent in Rio, is considered safer than the yellow taxis and a lot cheaper. Share the ride with friends or family and it will be even cheaper. You can get rides from Lapa to Copacabana or Ipanema at night for 20-30 reais.
5. Pick wisely where you want to stay and when to come
If you come to Rio to spend a lot of time on the beach, then it's a good call to stay in one of the neighborhoods along the beaches: Copacabana, Ipanema or Leblon. If you like to go out a lot of nights and want to discover the city, then it's a better choice to stay in Lapa, Santa Teresa or Rio's coolest neighborhood, Botafogo. That is (close to) where the best bars and nightlife are, hotels and hostels are cheaper and you will save a lot on Uber at night. By daytime, it is just a short and cheap metro ride to get to the beach in Copacabana or Ipanema. The time of the year can also save you money. During Carnival and New Years it is amazing to be in Rio, but more expensive as well. In the months of May and June, for example, it is a lot cheaper. The weather is still great, it's not that crowded on the beaches, there are still good parties and prices of accommodation are generally lower.
6. Avoid fancy clubs and high entrance fees
Instead of paying tens of euros for entrance fees and fancy drinks, a Monday or Friday at the famous street party of Pedra do Sal shows you the real Rio de Janeiro. For free! The same can be said for a Saturday night at the Praça São Salvador, where live music attracts hundreds of people. Besides these street parties, there are lots of nice bars with a great vibe to visit. Jobi in Leblon, Canastra in Ipanema (best to visit on a Tuesday), Pavão Azul in Copacabana (try the typical batido de coco), the cool beach bars at Pedra do Leme in Leme and Botafogo is full of nice bars with a good vibe and live music like Fuska Bar. Another trick is to drink something on the street before you go to a bar or club. In Lapa for example, there are a lot of street vendors close to the Lapa aquaduct. You can have a beer or caipirinha there for only 5 reais.
7. Eat at buffet restaurants and 'barzinhos'.
A typical thing in Rio are buffet restaurants and the so-called 'barzinhos'. When you go these places around lunchtime, you can have really cheap and usually good meals for around 20 reais. The buffet restaurants come in two types: or you have to weigh your plate and you pay a price per 100 grams, or you pay a fixed price all you can eat. A good 20 reais all you can eat option in Ipanema is Triplo Mix map. The barzinhos are the typical local bars with a lot of tables and chairs on the sideways. During lunchtime, you will find good and cheap typical Brazilian dishes here. You will find them in almost every street.
And last but not least, to travel on a budget in Rio:
8. Go to the beach
The easiest thing to do to save money is, of course, to go to one of the beaches in Rio de Janeiro. With over 100 kilometers of beach coast and around 25 beaches, there is enough to discover. To lower your expenses, get some stuff at the supermarket because as a gringo you might pay more for drinks and food at the beach than locals. This is a great way to keep yourself on a budget in Rio. Bring enough sun protection and a hat – so you don't need to rent an umbrella – and a sarong, or canga as it is called in Rio, to sit on the beach instead of paying for a chair.
If you follow this advice to travel on a budget in Rio and you stay in a hostel dorm it is possible to live from around 150 reais a day (around 30-35 euros and 35-40 dollars). And you won't miss out on a lot of the good things Rio has to offer.