Talking about Rio de Janeiro is talking about beaches, sun, sea and a vibrating street life. Now try to imagine Rio de Janeiro without sun. That is a lot harder. But once in a while it happens, even in the Marvelous City, that everything is covered in clouds and rain takes away the outdoor life. It's not a great combination, in fact rain and traveling never is. But what to do when your luck runs out and you have to get to know Rio de Janeiro when it rains? Don't worry; the city still has a lot to offer.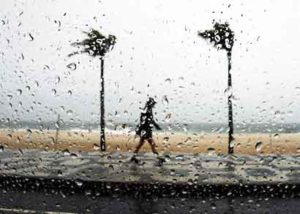 The heavy rains normally fall from December to March. Exactly when it is high season in Rio de Janeiro. But these showers usually start at the end of the day, enough time for the beach and other outdoor activities. During June and September, it is drier and cooler, but most of the wet days are in April and May or October and November. Just for your info, cariocas hate rain. They disappear from the streets with the slightest drop of rain. But with an umbrella and a rain coat, it's easy to conquer the weather conditions and still enjoy the city.
There are great museums in Rio de Janeiro, two of which are located at the Mauá square (Praça Mauá). You have the MAR (Rio Art Museum), one of our favorites. Beside interesting exhibitions, the roof terrace of the museum offers an awesome view of the Guanabara Bay. Across the square, you'll find the new highlight of the city in the Museum of Tomorrow (Museu do Amanhã), a futuristic building designed by the famous Catalan architect Santiago Calatrava. It's an eco-friendly museum that makes use of solar energy. On Tuesday entrance is free.
One thing you really need to do in Rio de Janeiro when it rains, is an extended visit to the old city center, since there are a lot of interesting things to see. From a stop at Confeitaria Colombo, a classic Portuguese style bar-restaurant, which has been around since the late 19th century, to the nearby Theatro Municipal and the National Library on Cinelândia square. They have daily tours in English. A must- do stop is at the Real Gabinete Português de Leitura, an old library that has around 300 thousand books of Portuguese writers and has the biggest archive of Portuguese literature outside of Portugal. The modern Catedral Metropolitano is also worth a quick look, considering it is just a few blocks away.
A bit more to the north side of the city there is a possibility to enter the famous Maracanã stadium, a must for football lovers. The legendary stadium was the venue for the World Cup finals in 1950 and 2014 and its where the legends of Pelé, Zico and other great Brazilian football players were built.
Another alternative is the Feira Nordestina, also known as Feira de São Cristóvão. An outdoor market, but partly covered. This is the heart of the Northeast of Brazil in Rio de Janeiro, a cultural mix of natives, the African slaves and Portuguese colonists. In the weekends it's opened for more than 48 hours in a row, from Friday evening to Sunday evening. To finish the day, it is a great idea to see the neighborhood Lapa and check out one of the samba clubs. There are lots of them, but Carioca da Gema and Rio Scenarium are the most famous ones.
Rain, of course, is never fun, but if you are a bit creative, it can be really fun to be Rio de Janeiro on a wet, cloudy day.