Pomodorino Ristorante
In 2015, Pomodorino was recommended by the Michelin Guide, and since then, endorsed infinitely by lots of customers that were directed to the restaurant due to the book's influence. The pasta is handmade by the cooks, seasoned with light ingredients and accompanied with fresh tomatoes, fish, cheese and other complementing components. Pomodorino is located in a stunning garden and opens view to the lagoon, a sight one does not want to miss. Like other proper italian restaurants, the wine selection is wide in variety and does not fail to impress consumers. Worth the money for a pleasantly filled stomach, by the best food possible.
Avenida Epitácio Pessoa 1104, Ipanema. Tel: +55 21 3813-2622
Quadrucci
In Quadrucci, as the seasons change, so does the menu. The chef builds his plates with seasonal ingredients, therefore guaranteeing the freshest food possible. This restaurant in Rio de Janeiro is known for displaying their food beautifully, and exceeding in creative combinations of textures and flavours. Some of their most ordered plates are the squid tartare with shrimp, octopus and banana and the lamb lasanha. Quadrucci also presents a great selection of desserts, for those with a sweet tooth. The decor is simple and elegant, providing a comfortable stay whilst at Quadrucci. A lovely time at this restaurant is granted, for if the food doesn't already qualify, the atmosphere will.
Rua Dias Ferreira 233, Leblon. Tel: +55 21 2512-4551
La Bocca Bar & Trattoria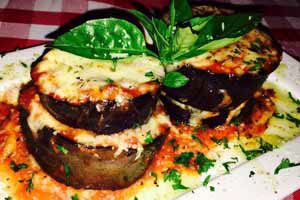 La Bocca Bar & Trattoria is a cozy italian restaurant, that although humble in appearance, is a stunner to anyone's taste buds. The restaurant-bar has the classic pasta and seafood options, and additionally, vegetarian friendly meals, including a couple of vegan ones. If in doubt of what to order, the staff will be more than willing to help. The location is perhaps the cherry on top of it all, since the restaurant is to be found in the bohemian neighbourhood of Lapa. It won't hurt to give the restaurant a try, if in want of italian cuisine, without all the fancy packaging, but with a casual vibe instead.
Rua André Cavalcanti 56, Lapa. Tel: +55 21 2146-5639
Gero
Gero does not come with a small price tag, but it does come with high end dining, in brick-wall rooms lit naturally by the sun. It has been recommended in the Michelin guide this year alone, and in the Veja Rio magazine in 2016. This is one of the priciest Italian restaurants in the list, but it is also perhaps the best experience, due to the combination of rich ingredients, cooked skillfully to compose plates of italian delicacies. If looking to splurge, do it right and drop by Gero for a sophisticated dinner or lunch out.
Rua Aníbal de Mendonça 157, Ipanema. Tel: +55 21 2239-8158
La Fiorentina
Out of many qualities, La Fiorentina is blessed with a particular one that helps it stand out from other Italian restaurants in Rio de Janeiro; its walls are covered top to bottom with countless signatures of famous artists, journalists and highly recognized personalities. For those looking to dine outdoors, the restaurant also offers seats in open space. In addition to the standard pizzas and pastas, their menu includes risottos, soups, seafood and meat. One can enjoy La Fiorentina's wide range of drinks (from imported beverages to house-made cocktails) while admiring the black and white portraits of well-known artists on the walls. La Fiorentina is the perfect place for one who's in search of classic italian cuisine, and quality sips of alcohol.
Avenida Atlântica, 458, Copacabana. Tel: +55 21 2543-8395