The Developing Minds Foundation is a not-for-profit organization that builds schools and sponsors education programs in favelas in Rio de Janeiro, as well as in other areas of Latin America. With our education-based projects, we offer our students a chance to learn and grow, and in this manner, we aspire to create a pivotal experience as they try to make their way into society. Learn more at Developing Minds Foundation.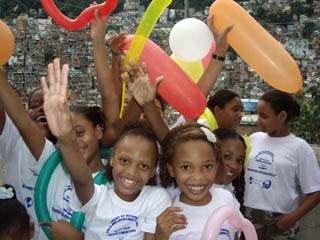 About Projects in Rio
Rocinha favela The Developing Minds Foundation has sponsored a project to build a computer school in Rocinha. As a result of this project, we now have close to 100 children from the favela who are learning to use computers and develop technology skills – an important step in bridging the digital divide. Our partnership with Uniao de Mulheres, a successful locally-run organization, addresses the woefully inadequate public education there by offering complementary academic and extra-curricular training in a dynamic learning environment.
The computer program reinforces what students are learning in their public school classrooms, as well as assists them with reading, writing and other important skills in an innovative and fun environment. Equally important, it keeps children off the streets and creates a supportive environment to help them stay out of illegal activities and drug trafficking so that we may orient them toward a positive alternative.
Dona Marta favela Developing Minds Foundation supports a judo and Brazilian jiu-jitsu sports academy in the favela that offers about 230 kids an opportunity for personal development and enables them to ascertain important skills that go beyond what is typically learned at the school desk – such as leadership, self-discipline and self-esteem. We provide a positive atmosphere for kids to play, practice and develop expertise, all the while learning to negotiate disagreements, resolve conflict, interact cooperatively and establish trust with their social group.
Throughout this experience they are able to build confidence, which we expect will help them to make better decisions about their future. By introducing athletics as a positive medium for teaching these skills, we create a valuable complement to the classroom experience for boys and girls. And in the process we promote the positive association of traditional schoolhouse learning with the thrill of playing sports.
City of God Developing Minds Foundation, in partnership with CDI, is sponsoring a school to teach 700 students per year from this severely underprivileged community how to use computers, software and internet as a means to develop adequate skills to integrate into the job market. In addition, teachers instill into the students an appreciation for principles of citizenship, covering topics relevant to their communities such as non-violence, health, sex education and human rights.
How to Donate to Developing Minds
Anyone can make a contribution on the "Donations" section of the website mentioned above.
How to Contact Us
Developing Minds Foundation is comprised of various members who work with the projects in the favelas. Several of the team members are based in Rio de Janeiro. If you would like more information, contact us by e-mailing info|at|developingmindsfoundation.org.
This text was written by Philippe Houdard, founder of Developing Minds