Strolling the promenades of Copacabana and Ipanema, travelers will pass by loads of bars that at first sight almost look identical. Even their menus, with the same beer brands and hamburger and fries dishes, look the same. Where are the cool beach bars in Rio de Janeiro? Where is the lounge bar, or the sophisticated cocktail place? — some visitors might wonder.
However, the good news is that there is a revival going on along the famous boulevards of Rio de Janeiro. New beach bars are opened, and older ones are renovated. And yeah, they offer more than hamburgers and French fries and the typical light Brazilian beers.
Marea
Across upmarket hotel Fasano in Ipanema, Marea is one of the new bright bars on the beach. With advertising Walls beer, an artisan beer from neighboring state Minas Gerais, Marea already differentiates itself from many other bars in its vicinity. For foodies looking for something different than fast food, the octopus vinaigrette on their menu is a great choice. Maybe combined with a Carioca gin — a refreshing local mix of gin, mint, cashew and Sicilian lemon.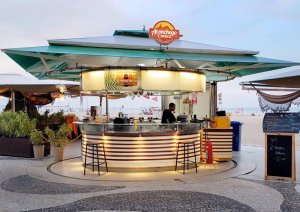 Anconchego Carioca
Next to bustling Copacabana, on Leme beach, you'll find Aconchego Carioca, another great location for nice drinks and exquisite snacks and main courses. Besides the typical local drinks, Anonchego Carioca also serves excellent ceviches.
Gávea Beach club
On the same strip, there is Gávea Beach club, a new bar/restaurant as well. Its Mediterranean menu was created by Italian chef Jolanda Ruggiero, from Naples. The place is stylishly decorated and is planning to open an old fashioned tavern in its basement, serving Spanish style cold cuts. 
Riba
In Leblon, Rio's upmarket neighborhood, Riba is the place to be. A favorite among locals who don't mind spending a bit extra. Craft beers and tasty caipirinhas, but also its breakfast menu with organic products are a great attraction. Here they also serve an interesting gin mix: the gin A + drink, made with the national Amázzoni distillate, tonic water, strawberry tea, Sicilian lemon, and basil. Price: R$25.
So.Ga Beach
From Leblon it is a short ride to São Conrado beach. At the end of this beach So.Ga Beach, owned by Sofia Mentens and Gabriel Ferrari, is one of its kind bar. Loved for its vegetarian food and great views of paragliders landing, people like to come for a chill afternoon. Order a Morrocan couscous with a delicious cold beer and life can't get any better.
When you have had a good time at the coolest beach bars in Rio de Janeiro, you might want to continue your day or night in Ipanema or Copacabana. We already selected the best bars in Ipanema and the best bars in Copacabana for you.