It is December, so this means everybody is preparing for the holidays. First, Christmas with the whole family, and then we end the year with a big bang with New Year's Eve. Well, it is all about New Year's Eve in Rio de Janeiro. Millions of people will look for a place to have the night of their life as they are entering the new year. If you are looking for a place to go, here we selected the best 12 parties for New Year's Eve in Rio de Janeiro for you. Have fun!
Casa Mosquito
Casa Mosquito is a hotel in Rio de Janeiro that offers a New Year's Eve party at their exclusive rooftop, located at the beginning of the favela Pavão-Pavãozinho, in between the neighborhoods Copacabana and Ipanema. For R$750 you have everything: open bar with vodka, energy drink, whisky, champagne, soft drinks and much more; a buffet with a big variety of dinner and dessert; and also music attractions. They'll have a samba band playing carnival songs and DJs to make it a memorable night. From their rooftop, you have a great view of the fireworks.
For more information, visit their Facebook event here.
Sociedade Hípica Brasileira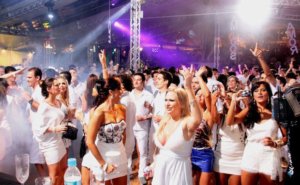 If you really enjoy music and dancing, this is the event for you. Nine DJs will be in charge of this party at Sociedade Hípica Brasileira in Lagoa. Almost every party in Rio will offers you the same thing when it comes to food and drinks: open bar and open food. The producers of this party, Cafe De La Musique, are very famous in Brazil for big and exclusive events. Safe bet for a really good party with beautiful people and an even more beautiful venue. Price for tickets are R$690.
Tickers are being sold online or at Kiosk Cafe de La Musique Beach – Posto 12 – Leblon.
Palaphita Lagoa
For carioca funk lovers, Palaphita Logoa is welcoming Buchecha — a famous funk singer — for an exciting fun night. DDP Diretoria is also presenting their best hits of pop music and samba. During the breaks, DJs will be playing hip-hop, reggaeton, electronic and House Music. Open food with sushi, sea food, fondue, appetizers, finger foods and more; open bar with sake, caipirinha, juices and alcoholic drinks. You need to be 18+. Prices ranging from R$470 to R$940.
You can buy tickets here.
Réveillon Gávea
In the middle of the forest, Sociedade Germânia is hosting a big New Years' Eve party. There will be three different dance floors with different rhythms. More than 10 DJs will be playing at this party and live music to shake things up: Mr. Catra – the biggest funk singer in Rio – is a confirmed attraction. This is an All Inclusive event – all kinds of drinks, foods, dessert and breakfast. Prices are between R$500 to R$1,000.
Búzios – Casa da Praia
If you're planning on running away from the crowd in Rio de Janeiro, but still want to feel the Brazilian vibe during the New Years' Eve, Búzios is a great choice. This city is about three hours from Rio and has the most beautiful beaches. It's a small city with a great infrastructure for tourism. Gringos love Búzios, so you'll definitely meet people from all over the world. Casa da Praia is a Bed and Breakfast in Búzios famous for hosting nice parties. It will be nine hours of party, welcoming Ludmilla to sing the best of carioca funk. Open bar and food. Close to Geribá Beach, where there will be fireworks. R$420 for the New Year's Eve party or R$610 to include three more parties the same week – this is a great deal for those spending the whole week there.
Informations and tickets here.
NEW 18 – Sheraton Hotel
With access to an almost-private beach, Sheraton Hotel is planning an exclusive party. This is more for the riches, actually. There will be samba and food, you can expect all to be at a high level. For R$650, you have access to bars serving drinks and skilled bartenders preparing top notch drinks. The fifth floor of the hotel will be turned into a night club and DJs will be rocking a twelve hours of party. Sheraton, of course, will have their own fireworks.
Tickets being sold online here.
Réveillon Azur Pé na Areia – Leblon
One of the popular beach bars, at the beach of Leblon. If you prefer a bit more relaxed atmosphere, you can go here to enjoy the beach in a bit less chaotic fashion. There will be a special menu for food and drinks and live music will make the last hours of 2017 a great experience. Prices from R$580 (half price) to R$1160.
You can get your tickets here & look for more info at the event page.
Reveillon do Morro, Morro da Urca / Sugarloaf Mountain
The most famous party in the city is at the Sugarloaf Mountain, and the Morro da Urca [map]. From 9 pm you can go up with the cable car to have all inclusive bar and buffet; this will cost you about R$850. To have the possibility to go up to the almost 400 meters high Sugarloaf Mountain, with an amazing view over the beach of Copacabana and the fireworks, you'll pay R$1350 to R$1600 dollars. Well worth the extra bucks, since there is only a small amount of 400 happy few that are allowed to go up there. Once in a lifetime experience.
Read more details on the FB-page of the event, as well as where you can buy the tickets.
Rio Réveillon Jockey
One of the traditional parties in Rio de Janeiro, it will be the twelfth time it takes place at the popular Jockey Club in the neighborhood Gavéa. There are three areas with different stages with dj's and samba. There is also a special area for kids, so this party is also great to visit as a family. Food and drinks are included in the price. Depending on the area you choose the prices are R$580 or R$820. 
Take a look at the website (in Portugues) for more info & buy tickets here.
White Rooftop The Final Act – Lagoon
The fifth time that this party will be held in the Lagoon complex, directly located next to the Lagoon. The party will go on for twelve hours and there will be lots of music. Dress code, it won't surprise you, is white. This is the last year they organize this party at this location, so there will be some extra surprises during the event. Everything included and no minors allowed, minimum is 18 years. There are not a lot of tickets left, prices for tickets start at R$720.
Read more about the event on the FB-page & get your tickets here.
Réveillon Boox Lifestyle, JW Marriot – Copacabana
The Marriot Hotel is located in front of the beach of Copacabana and this is one of the few hotels that is offering a party for a reasonable price. Most of the hotels ask high admission fees, but Marriot offers a good program for a great price. It starts from 9 pm and goes on until four in the morning. You will have one of the most privileged views of the city for the 17 minutes fireworks spectacle. And they open only for a maximum of 400 people, so pretty exclusive. The prices for the party are R$470 for women and R$530 for men.
Look here for more info & buy your tickets here.
If you need any help buying tickets, let us know. You can contact us on [email protected]
Of course, you don't have to buy expensive tickets to these parties if you are fine with hanging around at the beach of Copacabana. There will be a free show in front of the famous Copacabana Palace hotel. To check out all the details about celebrating New Year's Eve at Copacabana Beach, read our Ultimate Guide for New Year's Eve in Rio de Janeiro.